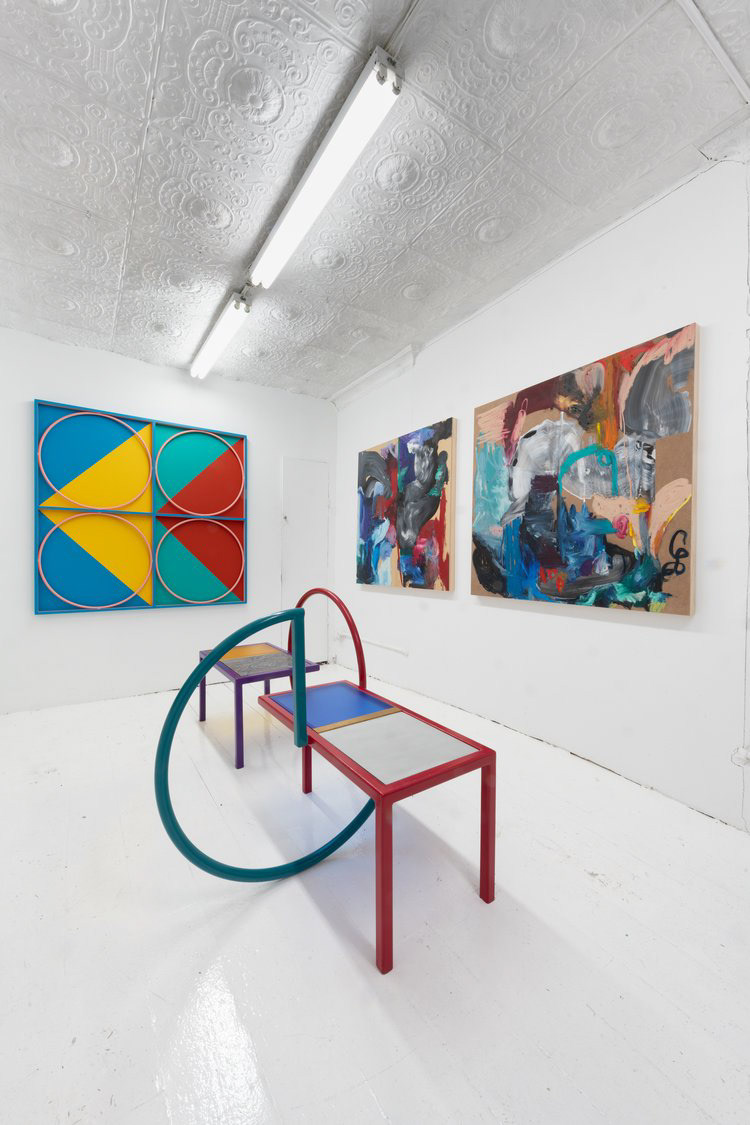 FIERMAN presents Good Friends, an exhibition of works by Przemek Pyszczek and Amir Guberstein. A swirl of paint, made rough with sand from Israel and Palestine, creates an archive of its journey across a masonite board. A bright red metal hoop intersects with a table, forming an austere and playful construction, influenced by the legacy of Soviet aesthetics. These are moments in the work of Israeli-born and New York-based painter Amir Guberstein and Polish-Canadian artist Przemek Pyszczek, respectively. Their works, like the artists themselves, are good friends.
The differences in practices of Pyszczek and Guberstein are clear–minimalist construction on the one hand and gestural, expressionist works on the other. Shown together, the historical and the religious modes of art creation are exhibited side by side as a means of dealing with the past. For Pyszczek, this has meant returning to Drzeniów, his hometown in Poland, which his family left for Canada in 1987 when he was two years old, to continue his exploration of his identity through a study of Soviet-era architecture in post-communist Poland, influenced by housing developments which had been brightly painted in the decades of his absence, as well as the spirit of Eastern European craftsmanship, which, like his metalworker father, created idiosyncratic forms where ready-made solutions where not available. These influences metastasized into facades and playground sculptures, works which are animated by Pyszczek's personal encounter with post-communist Poland.
Guberstein, unlike Pyszczek, has made an artistic practice outside of his home in Israel for most of his adult life, living in Berlin for graduate school (where the two met) before coming to Brooklyn where he has resided for the last ten years. The past is mediated by instinct, resulting in ineffable assemblages of color. The question of homeland, of political belonging, and religious belief becomes suspended, as the grit of earth which he mixes into his paint. Eluding the convenience of a political statement while confidently positioning himself in a chorus of Abstract Expressionists, Guberstein's work is like a prayer, an act of calling out, a moment of inner struggle made palpable through repeated gestures of spirit.
To view the works of these two friends together is to recall Hannah Arendt's line of thought, which courageously responded to allegations of self-hatred against the Jewish people, by declaring "I have never in my life 'loved' any people or collective – neither the German people, nor the French, nor the American, nor the working class or anything of that sort. I indeed love 'only' my friends and the only kind of love I know of and believe in is the love of persons."
Amir Guberstein (b. 1985, Israel) lives and works in Brooklyn, NY. His work has appeared in solo and group exhibitions at Llano, Mexico City; Broadway Gallery, New York; South of the Tracks, Chicago; FIERMAN, New York; among others. His work has been written about in Artforum and other publications. He received an MFA from the University of Arts, Berlin, in 2013.
Przemek Pyszczek (b. 1985, Bialystok, PL - lives and works in Drzeniów, PL) is a Polish-Canadian artist making sculpture, painting, and installation. His work explores the intersection between personal memory and broader social histories. He has previously exhibited at Berlinische Galerie Museum for Modern Art, Berlin; Galerie Derouillon, Paris; Spritmuseum, Stockholm; Peres Projects, Berlin; Plug In Institute of Contemporary Art, Winnipeg; Museo Archeologico e d'Arte della Maremma, Grosseto; as well as participating in the Coimbra Biennale in Portugal and the Biennale Zielona Góra in Poland.